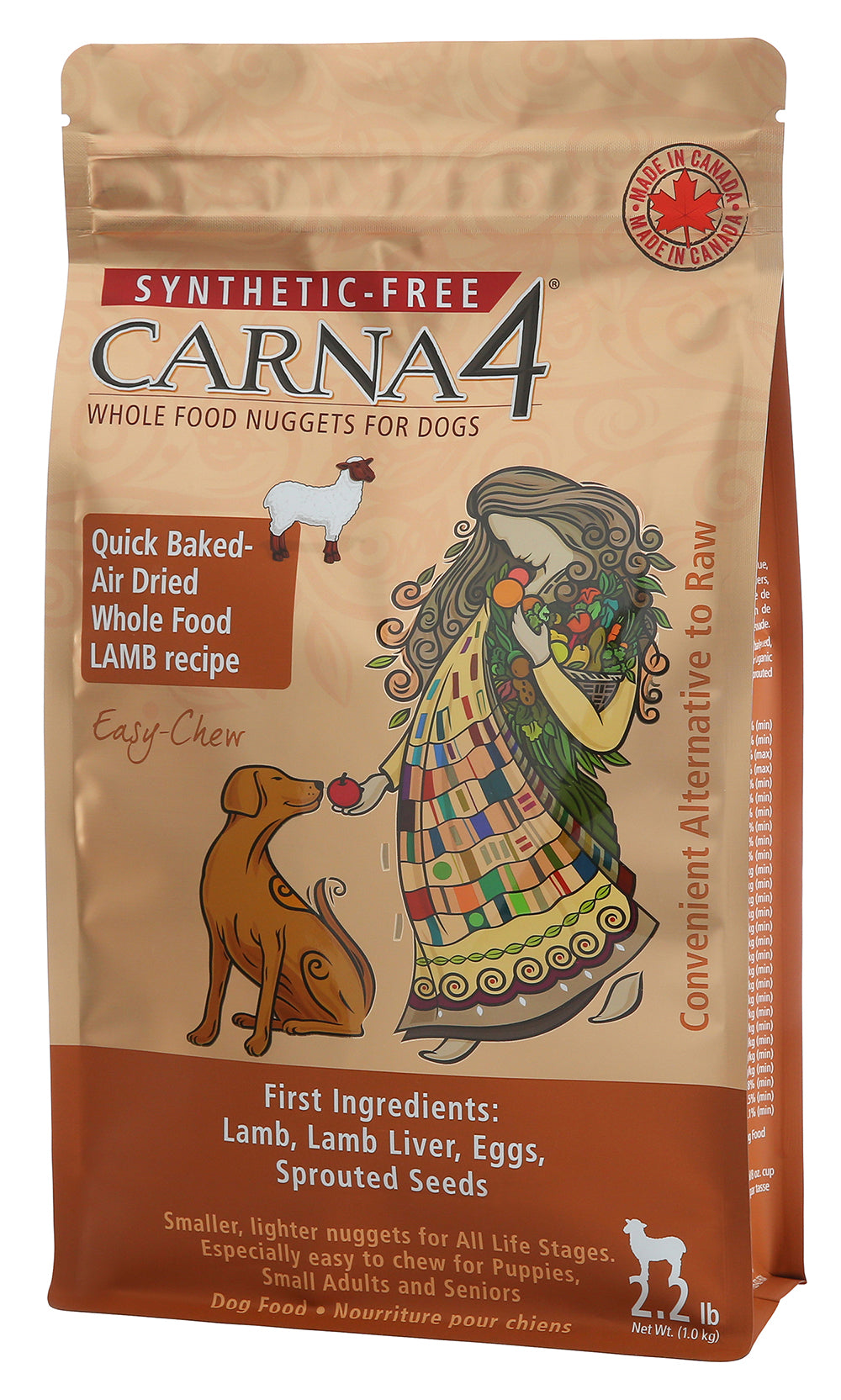 Carna4® Easy-chew Lamb Formula Dog Food
Sale price

$24.99
Regular price
(/)
---
Ingredient List –

 

Easy-Chew Lamb Dog Food

:
Lamb, lamb liver, eggs, ground organic sprouted barely seed, herring, perch, sweet potato, ground whole brown rice, ground organic sprouted flaxseed, ground organic sprouted lentils, ground organic sprouted peas, potato starch, apples, carrots, sea salt, kelp, baking soda….Nothing Else.
We test every batch of Carna4 for 15 different pathogens and toxins. Nothing leaves our bakery until it is checked thoroughly for safety.
Carna4 Easy-Chew Lamb variety is whole food nutrition for all life stages of your dog customized with a slightly softer, smaller nugget – perfect for the little mouths of puppies and small breeds, as well as older dogs that have trouble with chewing. Carna4's delicious air-dried nuggets are highly digestible and so densely packed with whole foods that you may need to feed 10-15% less per day than you are used to. Our Lamb formula is loaded with pastured New Zealand lamb. New Zealand has some of the cleanest agriculture in the world and is a BSE-free country. We also include whole produce and our amazing mix of certified organic sprouted seeds that have been germinated to unleash a POWERHOUSE of NUTRIENTS naturally, to support your dog's intestinal health, energy, skin and coat. We then quick-bake & gently dry it to give your dog bio-available vitamins and minerals, without synthetic additives of any kind. No vitamin pre-mix needed nor added, ever.
Like all Carna4 formulas, our fresh food ingredients provide your dog a clean, complete whole foods diet that is every-day-easy. Perfect for alternating with a raw or home-cooked diet. Our sprouted seed mix offers a wealth of super-nutrients, including very high levels of naturally occurring antioxidants and Omega-3 fatty acids, amino acids, vitamins, minerals, enzymes, and billions of CFUs of probiotics to levels far 
exceeding AAFCO standards.
And thanks to our sprouted seeds, all our Carna4 formulas are LOW GLYCEMIC and LOW GLUTEN – ideal for sensitive dogs. We use only 100% true food and you can easily pronounce the name of every ingredient in Carna4 because every one is grown only on Canadian, American, and New Zealand farms. No synthetics, no byproducts, no meals, no fillers, no protein concentrates, just REAL FOOD for your dog.
Choose options